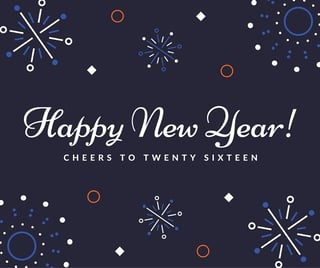 Another year of great content comes to a close. We, here at Adaptive, worked hard to bring you relevant information that you could use in your own marketing efforts. While some of our posts were a bit silly (like LinkedIn photo fails), they always had a purpose.
We have compiled our most popular posts from 2015. We hope you enjoy (or re-enjoy) them; and we look forward to outdoing ourselves in 2016.
Cheers!
---
1. 15 LinkedIn Profile Image Sins You May Be Making
With marketing, there is almost never one correct answer. Most times, what works for one company may not work exactly the same for another company - even in the same industry. There is certainly a try-test-adapt-try again methodology. Notice I said almost. If you are a professional, then listen up because your LinkedIn profile image may need help! There is really only one correct answer on what your profile image should be. It should be a clean, professional headshot of you. Period. This is one of the few times there is not another answer.
2. Don't Commit These LinkedIn Photo Fails
Back by popular demand - LinkedIn Photo Fails!
My original post 15 LinkedIn Profile Image Sins You May Be Making is still the most read post I've ever done. It was a lot of fun, but it also got people thinking hard about their presence on social media.
The following examples are taken from actual profiles I have seen. As to not totally offend anyone, I recreated all of the image types. I hope you have as much fun reading this as I did creating it.
3. How to Effectively Market Financial Services to Millennials
Millenials represent a unique generation and specific challenges when it comes to marketing financial services. Many label this group of young adults as irresponsible, especially when it comes to professional financial services. So how do you get the attention of an entire demographic of people who don't seem to care about planning for the future? The answer is to truly understand what motivates millenials to spend money and how they evaluate companies.
4. 7 Vital Functions of Marketing for Small Business Prosperity
Marketing basics for small business are a vital part of the short and long-term success of the organization. You have the opportunity to see increased revenue and profitability by considering every function of marketing and the benefits reaped by creating a sound marketing plan around all 7 functions of marketing.
5. CX and Man's Best Friend
A few weeks back, my furry companion, Santini (pictured here in his favorite Halloween costume) lost the battle to the ever-present demons of old age. As I went home to an empty house, started returning my home to a new sans-110 pounds of dog normal, and let's be honest, trying to keep my broken-hearted emotions in check, my mind wandered. You may know by now my mind wanders to blog topics during the most inopportune, or at least inappropriate times (Catholic contradictions, anyone?). This time was a little bit of the same and here's where I landed: we learn SO much about client experience (CX) from man, or woman's, best friend.
---

About Adaptive
OUR STORY
Why Adaptive? With the speed at which information moves, the rapid increase in technologies, and the ever-changing ways to reach the market, there is only one constant – everything is changing… What worked last year might not work today. That tweet you are about to send has a shelf-life of 3 hours or so. Google will throw all of us for another loop in a few months. Facebook may actually declare itself a country. Your next big marketing win may be a tech startup still in a garage with no name or backing. We embrace these changes, stay on the leading edge with our clients and ensure their marketing strategy is cohesive and consistent no matter what the market throws at us.
Adaptive is a strategic branding and inbound marketing firm focused on providing our clients "marketing solutions, not shortcuts". Our proprietary process AIMS90™ establishes a baseline, determines SMART goals and provides the plan to accomplish those goals. We are not a firm that simply 'checks the boxes', and by deploying the right mix and timing of tactics we produce remarkable and tangible results for our clients.
With us, you are not client #262704, you are an individual client looking to receive a personalized experience through customized executions.
---