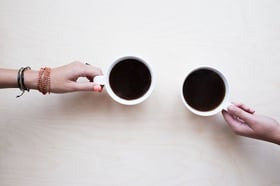 Millions of Americans plan to tune in to tonight's Democratic debate. If this is your 1st, 2nd or even 10th debate viewing experience, you have certain expectations. You expect multiple candidates to show up and bring their best game faces to win your vote. You expect a moderator, probably one from a local or national news syndicate, to ask questions of each candidate. Finally, you expect a crowd—fellow citizens who've come out to cheer on their respected candidates, not to mention the possibility of shaking hands with the Democratic party's representative for President next year.
Now that you have that scene in place, erase it! Imagine for a moment if Senator Sanders, Hilary Clinton or any other candidate walked to that stage without waving, without engaging the crowd or even acknowledging their fellow candidates, then simply launching into their speech outlining the litany of reasons they are the best candidate for the job. Once wrapped, they simply turn and exit stage left. If you are like me, picturing this scene you ran through a few emotions: confusion, astonishment, annoyance, then sheer shock and bewilderment at what you just witnessed. Nobody used the opportunity to shake hands with potential voters, kiss babies, or even respond to one question from the moderator. What a missed opportunity to engage with the millions of followers who tuned in to see how the candidates answered questions which influence their voting decision.
Hold onto those emotions while we turn our attention to social media and how followership, engagement, and expectations all play a role in the success of a company.
Followership
As referenced above, public figures like politicians have a great number of "followers". For our purposes, followership refers quite simply to the people who follow you online, whether on Facebook, Twitter, LinkedIn, or Google Plus. The old adage of more is better, doesn't hold true in this instance, or at least we don't recommend you ascribe to that theory if you want success. Comparing your company to a candidate…would you rather have 1 million followers who were under the age of 18, or would you prefer 100,000 followers who were within voting age and registered in your party? The answer is obvious for this scenario and should be for your company: if you sell Xs, you would want a large number of followers who only need Ys. Quality vs. quantity is key! People follow you for a reason, so you want to make sure you don't ignore them, as played out in our imaginary debate scenario above.
Engagement
Like our politicians glad-handing in person, they also "take it to the digital streets" by constantly posting updates to their respective sites on campaign trail happenings, responding to their critics latest attacks, or simply answering questions from the voters. This is where the proverbial rubber hits the road. When someone follows you they expect to get something in return, something of value, not just an update on your latest sale or product offering. If this same follower called your company they wouldn't expect to hear you spouting off sales pitches, but instead inquiring how they could help you or what they could do to make your experience more pleasant. Those expectations apply, maybe even more so, on social.
Great Expectations
In addition to providing something of value, there are a multitude of other expectations in place these days, paramount of which is response time! As people have come to expect updates from the campaign trail and live tweets from debates, they've also come to expect instant, or close to instant, responses from those they follow. If you are not giving your followers what they want or in a timely enough manner, they will quickly leave you and find someone else to follow who does provide exactly what they need.
While you are watching the debate tonight, take stock of your online presence. Not your numbers, but your engagement and ensure you are living up to the expectations of your followers. If you need a bit more assistance in getting this right, please take a moment to download our handy guide to successful social (inbound) marketing.