---
Before You Read The Post:
I am more excited about this post than anything I've written lately. This message will hopefully open your eyes to the infinite possibilities of Inbound Marketing. I poured a lot of passion into this one, and the final product is quite lengthy. So, if you are looking for the general idea and some quick hit advice then continue reading. I omitted a lot of the detail in this post to make it easily digestable. If you want the full story, then head on over to LinkedIn to get the full article.
I would love your feedback on this one, so please leave comments or email me directly.
- Patrick Sitkins
---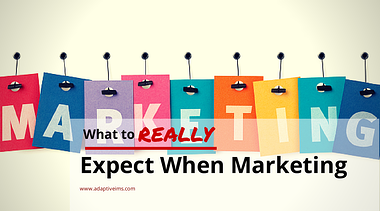 It's frustrating when companies come to us and say, 'yeah, we've tried Blogging and social media but it hasn't produced any results for us'. Let me be clear - blogging 4 times per year and having a facebook page is not a complex inbound marketing strategy. I have been 'doing inbound' since 2008, and seen tremendous results for several of my companies as well as a large number of clients. Inbound marketing is not a theory, it is truly the way B2B marketing works. I am so passionate about this process and know it can work for nearly every firm, but there are a lot of misconceptions and short-sighted ideas on what inbound is and what to expect from it.
First, let's define Inbound. This is a marketing methodology that aims to flip the script on traditional "outbound" marketing methods such as buying ads, yellow pages placement, direct mail, buying email lists, and praying for leads. Inbound focuses on creating quality content that pulls potential clients towards your company instead of pushing content to them. This is meant to be a more natural process of attracting traffic, converting leads, and closing business. The success with inbound comes first from an understanding of some key principles and themes:
- Acknowledging your brand is an asset
- This process must become a cultural item
- This is a path to thrive, not survive
- Inbound is an investment
To put this into perspective, if you were morbidly obese and this was causing serious health complications, you would need to seek medical intervention. Joining a gym would not be a good solution for you. Likewise, if you are in relatively good shape, and you are looking to get into great physical condition, then a gym or personal trainer may be perfect for you. Of course, you can't sign the paperwork for your gym membership and expect to have six-pack abs the next day. It takes time and commitment. The same is true with Inbound.
I know, through years of proof, inbound marketing works. It saddens me when I speak with companies that tried inbound before and had terrible or no results. There are a lot of factors that go into a failed campaign, but the biggest issue I typically see is unclear expectations. Most companies talk about leads. This is a very dangerous starting point. While leads are important, you have to understand what that really means. As an example, if you are a local financial planning firm licensed in Virginia with an office in Charlottesville you would not care about leads outside the state or more importantly unqualified. Yet, most companies do not start with SMART goals in order to ensure their success. So, what then should you expect from deploying inbound marketing?
1. Solidify Your Value Proposition
2. Identify Current and Future Opportunities
3. Brand Awareness
While I have fully and whole-heartedly subscribe to the inbound methodology, there are a few points where I differentiate for our clients. If you notice in the inbound graphic developed by HubSpot, you'll see this entire process starts with and is focused on attracting "Strangers" to your site. While this is extremely valuable, most of our work starts with re-introducing yourselves to current clients and your network. By ramping up your marketing activity, you are able to dramatically increase your brand awareness with these groups.
What is that worth? Think if you could cross-sell 20% of your current client base. What if you could generate leads from 4% of your LinkedIn network. As an example, I re-introduced myself to my network with a simple check-in email and this has already produced the potential of over $50,000 in revenue. Not a bad return on investment. A bit of warning here - don't read this as "send an email, make $50,000". I've seen "salesy" crap out there promising the world to people, and it just doesn't work like that. You can't show up out of thin air and expect to produce huge results. The reason my email succeeded was due to the personal brand I built up over the last ten years. People trust me and know my intentions, and the value I bring. If you and your organization have done this with your current clients and network, then there is no reason you can't generate some great activity with a little brand awareness focus.
4. Traffic - Leads - Sales
5. Get Your Mojo Back!
6. Create a Culture of Sales & Marketing
7. Retain & Attract Top Talent
8. Your Exit
For most executives, their business is their single greatest asset. There will come a time when it is time for you to sail off into the sunset and perpetuate your business. Regardless of your decision to do this internally or externally, having a tremendous digital platform and marketing process getting results will equate to a higher value placed on your organization. I had 5 clients in the past two years sell their business within 9 months of partnering with us. Many times, opportunities to sell came out of the blue. Of course, they were already thinking about perpetuating, but in all 5 cases, they hired us to re-brand, develop new digital assets, and start inbound. And again, with all 5 clients, they were approached by much larger firms looking to expand their portfolio. They chose our clients over other competitive firms in their market largely due to their online presence.
If you are beginning to think about your exit, then having a solid digital platform is not only crucial, but it will also equate to a higher value placed o your firm. Not a bad return, right?
This message needs to be heard by B2B organizations as well as marketers. Yes, traffic-leads-sales are a major indicator in the success of an inbound marketing campaign, but there is so much more that can be gained. Inbound Marketing, when implemented as a strategic and cultural item, can truly transform an organization.
If you would like some more direction on running an inbound marketing campaign, check out our free checklist below!