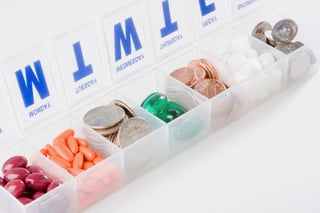 When I was in college I worked at a bicycle shop as a mechanic, salesman and all around bike shop employee. During my time there the manager, Andre, stressed the importance of routine in daily tasks, especially when it came to building bikes. The first time I built one it took me close to 2 hours to complete, from unpackaging to meticulously placing the bike shop sticker on the seat after a test ride. Andre suggested a routine for building bikes: start at the front of the bike and work back, thus ensuring I didn't miss tightening each bolt to their torque specification and toed the brakes appropriately. As I progressed through this process time and time again, my build time for a standard mountain bike went from 2 hours to just under an hour - from boxed up to on the floor ready to ride and sell.
When I transitioned from some time in the Marine Corps Active Duty to the Reserves and got a job in the civilian world, the first job I got was again at a bike shop, this time in Charlottesville, Virginia. At the beginning and end of each day, I found myself sweeping off the welcome mat at the shop. After a few weeks of this, one of the managers asked why I did that. I told him it was a routine I picked up while at my first bike shop and something my Marines and I would do every day in our Supply warehouse, so it just felt natural and part of my routine. He was laughing because the only other person he knew to do that at any of the jobs he had, was another Marine. He exclaimed "whatever the Marines do to you in basic training, it works!"
So, how does all of this relate to social marketing? A routine has three main benefits not just for your social marketing, but for your business as a whole:
Buyer personas

know when to check your site for original content. Because people are routine based, they more than likely check their social media accounts at the same times each day. Your posts might get the most views and engagement on Tuesdays at 9:07 a.m. but hardly anything at 9:30 a.m. on the same day. Analyze these trends and make it a routine to post at the same time on those days.

If you are a thought leader in your industry

, you can add structure to what you're work-flow should be. Set a schedule of what topics you would like to write about over the course of the next month. Once that is in place you gain ideas and insights into what to incorporate into your content in your everyday life. People like to relate to stories about their everyday experience, so tying in your experiences makes for a much more engaged reader.

A routine makes your day go by faster. If you set a routine to do specific tasks at certain times of the day, much like sweeping the welcome mat, you'll find your day goes by much quicker as you go from one task to the next. Just as your target audience checks their social media accounts at regular intervals of the day, you will be much more productive when you have a routine to stick to.
So, in order to get the most out of your social media presence and campaigns, stick to a routine set of tasks and content postings. This will help your buyer personas find the content you produce and make you more productive in creating content so you can focus on providing a better client experience after you have captured their attention.
Social Media 101
Looking for some additional help with social? Click below for instant access to the free webinar, "Social 101".