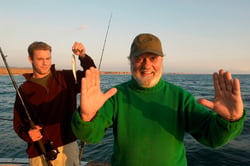 We all know the type of person who tells fisherman's tales. The one who caught the biggest Goliath Grouper off the east coast of Florida and had to fight it for 4 days without food or water before the fish finally gave into exhaustion. What I say to those tall tales is "prove it or it didn't happen." This isn't to say people shouldn't be trusted, but the best way to relieve all doubt from the start is to provide the evidence.
In much the same way Pat and JC are fairly active, I am an avid cyclist and runner. As such, I've heard the equivalent fisherman's stories in the workout aspect of my life: the "I just did a 100 mile bike ride with 15,000 feet elevation in 4 hours" type of stories. Now that technology is there to provide that evidence I say "If it isn't on Strava (workout tracking app and website), it didn't happen." In much the same way, unless you're on social media and promoting your business or product, your customer base (both existing and new) won't know what you have done or what new things you have to offer.
Most people browse a company's website and social media accounts to see what is new or happening in that industry. If your page doesn't have new content more than once every season, your "followers" will fall off their routine of staying up with your news. This doesn't mean you have to post something every time you or an employee takes a break, eats lunch, finishes their coffee, etc. - everything is good in moderation. Saturating your feeds with too many posts, too often will overload them and, in most cases, sacrifice content quality. So even if you don't have 10 new products rolling off the shelves every year like Apple, here are a few tips to keep those "followers" following you.
Content, Content, Content - Teach Something
Make sure you are posting on a regular basis on the happenings and relevant topics in your industry. If you're in the insurance industry, post something about how current hurricanes can affect homeowners. Fitness industry? Write a blog on health foods to keep you going through a workout. Whatever it is, make sure your target audience can relate and it is interesting.
Announce New Products On As Many Outlets As Possible
It is great to have your new product on your website or have an article on page 37D of the local newspaper write something up, but that limits your target audience to only those people who look for the content. Share this information across all social media accounts and ask your followers to share it with their friends.
Interact With Your Customers
Ask for customer input, guest blogs, feedback, promote your customers' accomplishments, and give exclusive offers to those responding and following you. People like to talk to people, not have generic form responses that aren't personal.
Consistency
If you are consistent (stick to a schedule) with your blogs, your followers will look forward to that next big thing – whether it is a new product, Member of the Month, a Meal Suggestion or just proof you're real people and not a robot. This consistency fits into your customers' daily routine and they will eventually share, repost your content - promoting your content for you!
Marketing is more about reach these days, than it is about the width of your wallet. You don't need to buy tons of billboards, tv advertisements, radio commercials, etc. You need to share your content with your social circle and ensure it is interesting and interactive enough for them to feel compelled to share with their social circles. That is how millennials, and many non-millennials, get a vast majority of their information - through social media! Therefore, if you're not sharing or posting your accomplishments, products or business, it may as well not even happened!