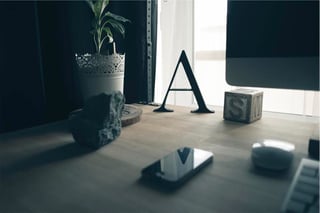 Creating a sound marketing strategy is one of many things on most company's "to-do" or "improvement" list. It can be a daunting task and one that, if not taken seriously, can have detrimental results since consumers are relying more and more on the availability of information and products in the digital world.
The following list are some digital marketing basics that can serve as a sound jumping off point, or a good reminder as you evaluate your strategy.
The ABC's
B - Branding
Take control of your corporate brand and even your personal brand by being intentional about what brand you want to project to the world. Wavering in this message leaves your digital visitors confused and has them looking elsewhere for what you might be able to offer them. Be intentional and take charge of your brand before anyone else highjacks it.
Looking for help on Branding? Click here to learn more about "Brand Aid"
F - Followers or Fans
One of the most important facets of any marketing campaign is knowing who your followers, fans or customers are. Another term for this is your buyer personas, those followers you are targeting in your campaigns and marketing efforts. Creating this persona gives you an idea of how to tailor your marketing campaigns to gain their attention and direct them to your website or social media profiles in order to convert them into customers.
Looking for help on Buyers Personas? Click here to download our free guide!
G - Goals with a deadline
Make them measureable, attainable, and realistic. Goals without deadlines are just wishes, so give the goals you set in your digital marketing campaigns a deadline and if the goals aren't met, you may have to reassess the steps you're taking to market your business to your followers.
M - Millennials
Millennials are becoming the largest generation and a demographic. If ignored, they will leave you for your competitors. Tap into this market, regardless of your industry, and make the most of the potential that comes with the newest generation.
Looking for help on marketing to Millennials? Click here to read our recent post about it!
P - The classic four P's in Marketing: Product, Price, Place, and Promotion
Know your product inside out and what other items are related to it. Offer trial periods, test runs, and insight to your customers on the product. Prices should be competitive and available when advertising your product. People are interested in doing their entire research on a product before being sold on it, and that doesn't exclude prices. 'Place' in the website marketing sense means search engine results. Know what keywords to use to get the best search engine optimization (SEO) out of your website and be found easier. Lastly, promotion. Between SEO, providing prices and information on your products and services, promotion should come naturally. Just don't forget to use all of your web resources such as social media and emails.
Looking for help on starting your first digital campaign? Click here to download the DIY Inbound Marketing Guide, and run your first campaign like a Pro!
Q- Quality over Quantity
In today's digital world, people are inundated with information and want to get the most out of their time spent online. Create quality content that is relevant and interesting to your followers. This creates brand loyalty and they will look to you as the thought leader if you are producing that original content that pertains to their interests. Too much irrelevant information will dissuade your followers from going back to your sites.
Looking for help to get started with content marketing? Click here to read our 3 tips to getting started with Blogging!
S - Social media
As the newest and fastest growing way to market businesses, products, and services to the general public, this is becoming more and more important for every business to take advantage of. Don't be caught on the wrong end of the bell curve, get on social media to promote your website, use it wisely to promote your brand and connect to the digital world!
Looking for a comprehensive session on Social Media? Click here to watch our "Social Media 101" webinar OnDemand!
W - Website
If you didn't guess, websites are crucial to digital marketing! Your content should be available there, should have links to your social media accounts, use SEO to get higher rankings, align with your brand and be appealing to your followers. This is the central focus for your digital and online presence and should reflect the brand that you want to project to the rest of the world.
Take control of your website marketing and utilize all of the tools available to you to ensure your digital presence is what you want it to be. The above ABC's of website marketing are a great start to not just think about how you want to be preceived, but also how to put that into action and acheiving your goals.
---
Like what you've read?
If the above basics of digital marketing make you think you are ready to dive in, then you'll love one of our most popular posts ever - "What to REALLY Expect with Inbound Marketing".