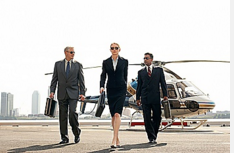 I recently had coffee with a friend to chat through a work problem: his boss kept showing up to potentially lucrative account pitches in a rumpled suit two sizes too large and Crocs. We've all heard the phrase "put your best foot forward" or "suit up" and unless the industry dictates it, a Crocs-clad foot is certainly not subscribing to those theories. In today's virtual society, donning your power suit is no less important, although the application is slightly different: your social media wears the power suit these days!
The thin chalk stripe pinstripe or perfect pointed-toe skin tone heel gives way to brand imagery consistency and thorough, easy-to-find information. Here are 3 quick tips and examples of who is looking sharp these days.
Tips!
Ensure your sites have profile pictures and cover pictures clearly representing your brand's product or service. Make sure these pictures consistently show up across your media, like we see with Brooks Brothers.
Don't be afraid to show your personality. Men in the office play with fun socks or ties, and women dress up their simple suit with great jewelry or blouses with unexpected patterns, so don't forget to be yourself in social like Cole Haan or Swarovski.

They showcase their products not only in bright, crisp, and clear photos, but also through videos highlighting their product at work.
Just as you create an executive summary for the boardroom presentation, make sure you give a highlight of your company up front.

Do not ask people to scroll through your page to find information on who you are or where to find you. Ensure you fill out the profile sections fully in all your sites.

Even if you are a new company just starting up, let people know where they can find more information, like JaxBee Jewelry.
So, while you may be sitting in front of your computer in sweats and slippers, make sure your social media is property attired as it represents you and your company across the world wide web!