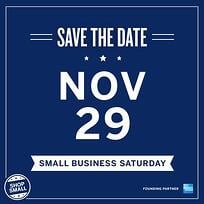 Small Business Saturday (Nov 29th) is almost here! This is a great opportunity for local businesses to attract customers and even band together with other local firms. While there are a lot of way to maximize your exposure for this event, many of them need advanced planning. So, if you have put off planning until now, but still want to maximize your exposure, here is one way to make the most of SBS.
Special Offers for Your Loyal Fans
Almost every business, small or large, has social media presence today. No matter where you participate, or how big your reach, there is an opportunity to thank your network(s). By offering discounts, promotions, events, special hours, etc. to your social media networks, you not only show you appreciation, but you also entice them to purchase from you. They may have been connected to you for quite some time, and a 'fan only' promotion may be just the thing to get them to buy. The reason this works? Everyone loves a deal, and this type of strategy is not only low cost, but it is easy to execute and can provide a little boost to your sales on Small Business Saturday.
More?
If you are looking for a bigger strategy, and feel like you have the time and bandwidth to execute, then check out our DIY Inbound Marketing Checklist. This will help you plan and run an inbound marketing campaign like a pro!