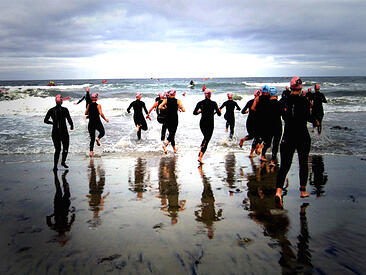 Do you go all-in, or dip your toe in the water?
I've spent the last few days down in one of my favorite places on earth - Key West, FL. My family and I have come here the last 5 years to participate in the KW Triathlon (TRIKW). As a native Floridian now transplanted to Virginia it is nice to get back. It's early morning here and it is already 70 degrees, while back home the high today is a balmy 37. You have to love Florida in the 'winter'.

While it still feels warm and tropical, the water does have a little chill to it. Of course, that hasn't stopped us from jumping into the pool, Gulf, and ocean. The first few times in were a slow and uncomfortable situation. I inched my way into the water, feeling the shock of the cold water every single step. Each little advance got me closer and closer to being fully submerged. After a slow and probably silly looking process, I was in the water. After a minute or so, I acclimated and it felt great to be in. Yesterday was different. We headed up to Fort Zachary Taylor to spend some time on the beach. The minute our feet hit the sand, my son was ready to go into the ocean. We made our way down and the first little wave hit our feet. WHOA! It was cold! There we stood as two of my brothers-in-law felt the same thing. We all stood there debating what to do. Finally after a few minutes of patient waiting (kidding) my son was very sure he wanted to go in. There was only one way we were going to get into that water - quickly. We all ran and jumped right in. It felt freezing for a few seconds, but then it actually felt refreshing. We spent about an hour playing around, swimming, and relaxing.

So what?
Let's set down the Cuba Libre now, and talk about your business. Recently we have been working with a lot of firms relatively new to inbound marketing. They are all successful in their marketplace, and are typically the provider of choice there. These firms have grown through traditional channels and are now looking to expand even further by implementing inbound/digital marketing. As we get going, we discuss short and long-term goals as well as the strategies & tactics to achieve them. Through our marketing planning process, we show them the opportunities they have in implementing a new marketing methodology and this of course gets them excited. This is a very collaborative process and our clients start pulling out every marketing idea they've had to see where it fits. While the ideas are flowing and the foundation of the strategy is being set, this sometimes gets a bit overwhelming. We typically hear something along the lines of, we are just dipping our toe in the water so we can address that later.
The tie-in
Ah-ha! Yesterday on the ride home from the beach I thought about getting right into the water and how much easier it was than inching in. Then, I thought about you and your company. If you replace the water with your marketing & sales goals, you can see the analogy here. In both cases, the ultimate goal was to get fully into the water and enjoy it. Both methods of entering, inching my way in, and running full speed and jumping in got me there. Inching in was a slow, awkward, and sometimes very uncomfortable process. Jumping in was only a quick jolt to my system. The same goes for implementing inbound marketing.
Inching in
What then does inching into Inbound Marketing look like?
- First and foremost, making sure your strategy and digital assets are connected
- Updating your digital presence (website, social media platform, beginning to Blog)
- Basic SEO and keyword strategy
- Utilizing landing pages and calls-to-action
- Ensuring your website is responsive
- Blogging at least once per week
- Publishing, posting, and commenting on social media
- Utilizing free social monitoring tools
- List segmentation
- Email marketing
Diving in head first
If you are looking for more rapid results, then this method may be better suited for you. Of course you will implement most of the above methods while also incorporating:
- Smart Content
- Workflows
- Blogging at least 3 times per week
- Social monitoring tools that help track clicks, visits, interactions and results
- Newsletters, interviews, guest posts
- Running complex campaigns
- High level corporate and personal branding
- Deep analytics
Is one way better?
I do believe both dipping your toe in the water, and jumping right in can get you to your sales goals. However, it is a personal choice.
Regardless of your method for getting in, here is a tool that can help you run your next campaign like a pro!