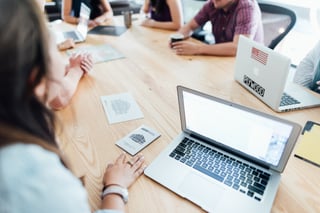 Take some time to socialize.
You've said it. I've heard it. "I just don't have time to post to social media for my business".
Sure you do. You just, well, think about it too much.Yes. You should have that one specific person in your office that "takes care of your social media". And yes, all corporate posts should run through that person. However, social media is about creating relationships with your audience. It's about showing your personality and thus, the attitude of your business. Your posts shouldn't always be jargon jargon jargon about your industry industry industry.
Be real. Be you. Be social.
Sitting in line at red light? Snap a pic of the sky, post it and make a mention of the weather. Boom. 7 seconds.
At a golf outing? Take a pic with one of your buddies (you probably already did this anyway), post it, tag your friend and tell your audience what you're doing. 12 seconds.
Teammates taking a pic at work? Photo bomb them, ask then to send the picture to your "Social Media Person" and post it. 30 seconds…because you know you looked at the picture first and laughed about it.
Social media is not all about making sure your spelling is right and making sure that your followers KNOW WHAT YOU DO. It's about creating a relationship with people so that the WANT to do business with you, or KEEP doing business with you, or GO TO WORK with you.
So take some time to socialize. It's not as hard as you think.
---
Take It To The Next Level
If a little creativity in your social media schedule produces great results for you, the next step is to consider a full-blown digital marketing campaign. Luckily, with the free guide below, you'll be able to plan and execute your first campaign like a pro!