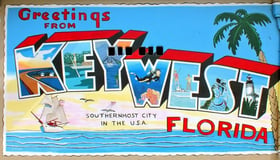 My family and I recently returned from our 5th annual trip to Key West in early December. This tradition started when my wife and I went down for the 1st Annual Key West Triathlon (TRIKW), which also happened to be my first triathlon ever. Back then, it was just the two of us, but this trip has morphed into a full family excursion with 2 children in tow and in-laws joining. It is always great being back down in the keys, but it is a little sweeter now that we live in Virginia as opposed to just a few hours away in Jacksonville.
This year was an especially tough trip, but, after being a few weeks removed, I've had some time to sit back and reflect on all that happened. The main point is this: I wouldn't trade the experience, and overall, it wasn't really that bad. Below are some takeaways from the trip and whether you are a triathlete, parent, or someone who's never been to Key West, these learning points directly apply to your professional and personal life. Bear with me as I take you through a few personal stories. The first story is about the trials I faced during the race.
Adapt
As mentioned, one of the highlights of the trip is always the Key West Triathlon. This year's race was intended to be an easy end of the year race, since my wife, brother-in-law and I all had our "A race" in August. Even though this wasn't considered an A race, I wanted to perform well. My plan was simple - get out front in the swim, have a strong bike, and hang on for dear life during the 10K run.
99 other men and I got into the warm Atlantic Ocean and waited for the horn to blow. The race was on! I began what was to be my best leg of the race, when I was suddenly kicked right in the stomach. It knocked the wind out of me and I popped up for air. GASP! SMACK! Just as I was taking in air, a wave nailed me in the face and all that air I was sucking in became water. I immediately lost most of the 'fuel'. As I sat there treading water, I vomited again. Not a great start to the race. I looked around and I wasn't even to the 2nd buoy yet. I could easily climb up the ladder to the pier or doggy paddle over to the safety boat, but I decided to press on. As I hit the straight away about 300 meters later I vomited again. Now, I started feeling very sorry for myself. I had a massive headache, my plan was out the window, I was completely depleted of energy, and I felt certain I was #100 out of those initial 100. I pressed on, and later found out I was still 5of 20 in my age group.
I got on my bike and began trying to make up not only lost time, but also the fuel I left in the water. Within the first mile, I was cruising along when I saw a big white heron on the side of the road. As I got closer, he started flapping his wings. No, No! NO! BAM! He flew straight into me causing me to go from my lane, across the opposite lane, onto the shoulder, and eventually fall over in the grass. As I lay there for a second I evaluated this race so far and had to decide if I wanted to keep going. Was it worth it? I pressed on.
I finished the bike, and was off on the run. I figured I'd gone this far, so I might as well finish. Besides, it was only 6.2 miles. I saw Grandma, my kids, and brother & sister-in-law as I started out. I had to finish now. About 2 miles in, I began to melt. The Florida heat got to me and the dehydration from the swim was not helping at all. I hit the turn-around point and stopped for a quick stretch. Quad one, ah… Quad two, CRAMP! My leg locked up in the worst cramp of my life. There I stood, on one foot, trying to get my left leg down. Eventually I lost my balance and fell over in the grass. I pressed on.
Finally, the finish line was in sight. I picked up the pace and finished. It was a disappointing race result, but I finished. The pain eventually subsided, and I was able to hang out with my family on the beach in Key West.
The lesson: If you want the end result, then you have to adjust when your plan doesn't go the way you want . Adapt.
Dive In
It was cool participating in the 5th TRIKW. It marked my fifth year participating in the sport. As I thought back, it was funny knowing I threw myself into triathlons not knowing much about them at all. This directly relates to business and marketing. Most people want to grow their business and have ideas on how to do so. The most successful entrepreneurs are the ones who dive in, know there will be failures along the way, but press on.
The lesson: Commit, dive in, look to others for help & inspiration, and understand it is a learning process. You will get better and you will grow.
Consistency in Brand
As we were booking our accommodations, I went back and forth with the property manager at the place we stayed before. Last year, he was extremely nice when booking and we met him in person. This year, I wrote him and went back and forth on a few items. He never mentioned remembering us from last year, and was pretty argumentative. There were a few times where I almost booked somewhere else, because of his tone and responses via email.
When we checked in, he couldn't have been nicer.
The lesson: Be consistent in your brand. Your online, off-line, social, in person, etc. communications, voice and style must be consistent.
Iconic
There are some very iconic images, people, and places of Key West. You watch people line up to take a picture at the "Southernmost Point", pet the Six-Toed Cats at the Hemingway House, stroll or crawl down Duval St., and cheer at Sunset at Mallory Square. These are all "must do's" and things people associate with Key West.
The lesson: Develop your icons, people, and your business. What makes you memorable?
Know Your Audience
The Key West Butterfly Garden… I know my COO at Adaptive (JC) is dying right now. If only you could see the full text conversation I had with her. Don't get me wrong, it is a very nice exhibit, and my kids loved it. However, putting me in an enclosed place with 100% humidity and 96 degree heat, then having me navigate a tiny path through elderly tourists taking closeups of butterflies on their iPads does not equal a good time. I spent about 30 minutes sitting outside by myself as my wife, kids, mother-in-law, and friend Natalia enjoyed it immensely.
The lesson: Understand your audience personas and cater to them.
Do the basics well
My wife grew up in Key West, and we have obviously traveled there often. As the trip came to a close, we already hit every restaurant on our list. We were out and about, getting hungry, and no one could come up with a good idea for lunch. So, I asked Siri and Google. It was amazing how many restaurants had terrible websites, or really shouldn't have ranked on page one for "Family Friendly Restaurant". We chose the first decent looking place, which we happened to have eaten at in the past.
The lesson: A decent website and some basic local SEO can go a long way.
Experience over product
While there are so many unique things in Key West, there are also a hundred of the same things. Restaurants, Sailing & Fishing Charters, T-shirt shops, Tours, etc. With so much competition, it is hard to choose. A few things come to mind. With dining, we always have two stops on the list. The Hungry Tarpon and Blue Heaven. The Hungry Tarpon let's you feed massive tarpon by hand, and then sit on the docks to eat lunch; and Blue Heaven has a huge outdoor seating area where they serve the best breakfast. All of this while you sit amongst 'free range' chickens and eclectic locals. Then, there is Coastal Sailing Adventures. Sure, there are probably hundreds of sailing charters, but the "Dream Catcher" is a 70-foot vessel which has a crew and atmosphere that make you feel like part of the family.
The lesson: Create a remarkable client experience. Whether you are a restaurant in KW or a realtor in Wyoming, CX wins every time.
I hope you enjoyed reading this as much as I did writing it. There are a lot of lessons here, and hopefully a few you can implement in your planning for next year. If you take one thing away - press on. Next year will undoubtedly present you with up's and down's. How you handle them will directly tie to your results.
Here's to a prosperous 2015!