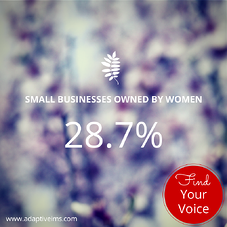 According to the latest Fortune 500 report, only 5% of the top CEOs in place today are women. While this statistic hits home on a visceral level, we only just started Adaptive Inbound Marketing Solutions and striving for the Fortune 500 might be a bit outside our 5-year plan. 28.7%, however, is a statistic closer to my wheelhouse, as it represents the percentage of women-owned small businesses, according to the National Women's Business Council.
Even though the number of women-owned businesses increased 59% between 1997 and 2013, there are still barriers against women starting and succeeding in their own business. Many say women have a more difficult time obtaining financing, and there is still a small contingency of people, women included, who think business ownership is a "man's job" and starting a business would emasculate their husbands or embarrass their fathers. In terms of success, research shows women tend to own businesses in industries with higher expenses and lower returns, such as retail, and they cannot sustain in an ever-growing competitive market. I would like to offer a different reason, though…exposure.
In November, Charlotte, NC proudly hosts the Southern Women's Christmas Show, with a preview night for a limited number of guests. The GFWC Junior Women's Club of Charlotte works with the local community to provide a sampling of treats for the preview night guests to enjoy. This year, I suggested the club focus on women-owned small businesses in Charlotte, who cater to the local's sweet tooth. The idea was quickly adopted, but it turned out much harder to implement in practice. While the Chamber provides a list of women-owned business in the area, you cannot search by type of business, so if you were unsure, you had to research each business one-by-one. Word-of-mouth proved to be the most effective tool for tracking down these businesses, but if you would like to support local women-owned small businesses, how would you know unless you too researched every store you visited?
Small business Saturday is becoming more popular across the country, but how can women ensure they stand out even from that crowd? Again, I go back to exposure. The aforementioned word-of-mouth network is certainly helpful, but imagine if that information was captured for all to see, any time they wanted. Facebook and Twitter made this a reality, but do we all use it correctly? As a business owner, there are many free options available to get your name out there and begin a conversation with your potential customers or respond to existing customers, so why aren't you out there? In case you don't know where to start, here are a few handy tips to take with you:
Be yourself and show your personality; people want to do business with people, not robots.
Add pictures, where appropriate, to your posts. Let's be honest, we are more likely to stop on a picture we like instead of a paragraph.
Keep your posts short, to the point, and use bitly to shorten links so they actually fit in 140 characters!
Above all else stop, listen, and don't forget to respond. Your customers tell you what they want, as long as you listen.
Customers, don't forget that last tip, engage with your local favorites and share, share, share. We all have the opportunity to help women-owned businesses flourish, so owners, let the passion you have for your business show, and customers, let your passion help them to continue to grow.