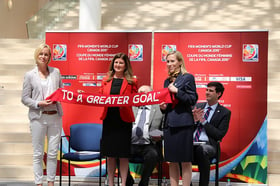 As I sat on the edge of my seat last night, with the 20 million or so other Americans watching our U.S. Women's Soccer Team win the World Cup for the 1st time in 16 years, I was struck with just how similar the attack and strategy employed by the victorious Americans was to successful inbound marketing.
Start Strong and Targeted
Last night, our girls capitalized on set plays (for those of you who didn't grow up in the soccer world, these are the plays practiced over and over and over again like corner or free kicks). They put their strategy into action from the very beginning. They knew their objective and didn't waste any time. The same goes for your organization. Sit down, focus on creating your strategy, then get out there, start blogging and engaging with your clients and potential clients in social media.
Relax into a rhythm
After the first two rapid-fire goals, many people probably didn't understand why the US seemed to slow down a bit. We all notice teams who "play with the ball" at the end of a match to wind down the clock, but at that point we were only 5 minutes into the game…were they uncomfortable? Panicked? Cocky? None of the above. They were settling into their rhythm. Again, they had a strategy in place and after their quick start they needed to execute. With your inbound marketing strategy, this is exactly what you want to do! Introduce yourself to your audience through attention grabbing blogs and social media posts/interactions, then settle into a reliable schedule so your clients know when to expect what from you. You can only go fast and furious for so long before you burn out, lose momentum and focus, thus losing your audience and edge of victory.
Defend, protect and respond
4 goals in 16 minutes…as a former soccer player myself this is impressive, but at the World Cup finals, this is almost unheard of, so imagine just how much adrenaline was pumping through the team. We all get excited, have a misstep or in this case, 2, but how you respond is what really matters. The beauty of social media is your clients or potential clients have access to you 24/7. They might post questions, complaints, or glowing reviews and anyone who follows or likes you can see these comments! Like the US team, everyone watching sees your response, so act swiftly and with kindness. Follow these easy steps to success in social media marketing interaction to ensure you do both and still win at the end of the day.
Close making promises for more to come
Will we see the superstars again in 4 years? In the Olympics? Nobody knows, but we sure sensed a revival of, and promise for, the continued success of American soccer. When you make an impact on a client or a potential client, do the same. Don't just secure a victory for yourself, and then walk away. Follow up, promise more greatness in the future, and then deliver.
Finally, don't forget to try a little something outside of the box every now and again. Nobody would think a chip shot from center field would float in for a goal, but Carli Lloyd decided why not and ended up with the earliest hat trick in World Cup history!