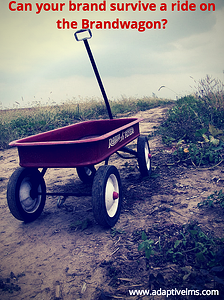 Since posting this morning, GoDaddy pulled their puppy commercial from Sunday's rotation. Click here for the full story.
If you've been living under a rock trying to recover from the chaos of the holidays, or if "Deflategate" is the only thing filling up your news feed these days, then let me bring you up to speed. This weekend marks one of the biggest showdowns all year…the fight to see who reigns supreme until this time next year. I am, of course, talking about the competition for best Super Bowl Commercial, which let's be honest, is the only reason some people even tune in Sunday. This year, I am eagerly anticipating the debut of GoDaddy's Puppy commercial, but not for reasons you may think.
First, a little bit of history
28 years ago, Budweiser threw a wrench in the gears with the introduction of the now famous Clydesdales, but they were only for special occasions, like the Super Bowl, since sex sells was the motto for advertising success in the late 80s, early 90, and let's be honest, since the beginning of time, and probably until its end. We've all seen the beer commercials of old (without the horses) with scantily clad women playing beach volleyball, or burger commercials with yet another scantily clad woman randomly eating a giant burger on the hood of a car, but those commercials are fewer and farer between these days.
Bring on the Fluff
10 years ago, Animal Planet brought us the Puppy Bowl and a new, softer, more emotional motto began to emerge: fluffy, cuddly, and cute sells. If it makes you cry, it sells more! We started seeing puppies appear with the Budweiser Clydesdales (yes, that one made me cry), in a Subaru commercial comparing product loyalty to man's best friend, and countless other puppy pop-ups across the branding landscape. These two examples make sense, since Budweiser already introduced animals into its advertising equation, and the loyalty of a pet is well-known, so using it in advertising your product is rather brilliant, but does it make sense for everyone?
The Branding Bandwagon
Within my favorite reputation management book (yes, I am a smidge biased), Brand Aid, the authors state: "branding is about showing the world your authentic self—your best self—with clarity and purpose". Not only does this hold true for personal brand management, but also for companies. If they jump on the branding bandwagon it confuses the audience, leaving them thinking "I thought company x stood for y, but now they are doing exactly what company z does, so do they stand for yz or y/z…" Figuring it all out is more complicated than an algebraic equation!
Remember I noted GoDaddy earlier on? Here's the real reason for my anticipation…I want to see if their new spot works! Like the Puppy Bowl, GoDaddy commercials have been around since 2005, but not without controversy, since they almost 100% subscribed to the aforementioned motto of sex sells. This year, they are waving the white flag and hopping on the "We love puppies" wagon. Will it work? Will going off-brand work for them or leave people scratching their heads? Tune in Sunday, watch, then come on back to share your thoughts and I will do the same!
Not sure if you're sending the wrong message through your brand? Erase the doubt: take our quick AIMS Branding Assessment and make sure you manage your brand before someone else does.