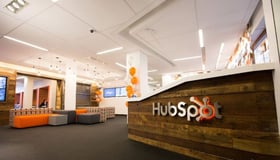 HubSpot is an inbound marketing software platform helping companies attract visitors, convert leads, and close customers. If you are like most busy executives, I'll get right to the bottom line by answering the question in the title - "to dominate your competition and finally start seeing visible results." If that intrigued you at all, then you can either click here to get more information from us, or continue reading on.
I have been a 'HubSpotter' since 2008. Back then, the software was really in its infancy compared to today, yet it was a revolutionary company, product and most importantly - a new way to approach marketing. I, like most early adopters, readInbound Marketing and totally bought in. I went to HubSpot.com read through some materials, downloaded an offer, was nurtured (really unknowingly) though the sales funnel, hopped on a demo, and quickly became a customer; and later an evangelist and HubSpot Certified Partner. There are two things to highlight here. First, what I briefly described there was the inbound marketing process. They attracted me to their site, nurtured me through their process, closed me as a customer, and delighted me enough after the sale to help spread the word. The second item, is the delight portion. Yes, they are a great company with a great product, but the true delight was in the results I experienced very quickly. At that time, I was working for a 30+ year-old management consulting firm. My marketing team and I totally revamped our website, approach, and culture at the firm. After all the groundwork was laid, we flipped the switch and launched our new inbound marketing platform powered by HubSpot. Within the first 30 days our traffic spiked 340%, and it never slowed down from there!
Now, before you say "So you are saying I will get a guaranteed 300%+ traffic increase" or "I don't see how that would benefit my business", you need to understand what to really expect when jumping into inbound marketing. Results almost always mean something different for different companies. Some are more established and care about brand awareness or exit barriers, some want more traffic, some only want the phone to ring. Regardless of what your goals are, you need to formally determine them. From there, you can build a strategy to help you reach those goals, and regardless if you hire an inbound marketing firm to help you or if you go it alone, HubSpot will be your best friend.
Return on Investment
I recently spoke with a company that had been with an industry niche HubSpot competitor for 5 years. He recently terminated that relationship and I asked why. He told me he really didn't understand what was happening day-to-day, he had no idea if it worked, and his firm never received a single lead 'from the internet'. AFTER 5 YEARS! No, it did not work…
As mentioned before, I saw very immediate results in doing inbound and using HubSpot. This is not an isolated case. I've helped mid-to-large sized companies in a variety of industries since 2009, and I can confidently say this stuff works. Here's the support:
In 2014, an MIT Sloan MBA student completed a research study on the ROI of using HubSpot's marketing software. Highlights included:
2.40x more visitors per month within one year
5.99x more leads per month within one year
69% of customers saw an increase in sales revenue within one year
No wonder 11,500 customers from 70 countries use it; and it makes sense why they are rated #1 in:
- Social Media Management
- Email Marketing
- Marketing Automation
- Web Analytics
- Search Marketing
- Marketing Software Platform
Before you jump into the deep end and sign up, here are some questions you and your team should ask:
Are we ready to invest in digital/inbound marketing?
Is this a path to thrive or survive?
Do we understand this will be a cultural shift and process, not a quick fix?
Do we have the resources necessary to install and manage the process in-house, should we completely outsource, or set up a hybrid arrangement?
Who will be involved in the process ongoing?
Do we have the time available to dedicate to the process?
Do we have buy-in at different levels of the organization?
Cost & Time Savings
Most of the companies we work with already had some tools in place before jumping onto HubSpot. One of the best things about HubSpot is it takes the piecemeal approach to marketing and wraps it into one cohesive package. Now:
- Email
- Websites
- SEO
- Marketing Automation
- Landing Pages
- Analytics
- Social Media
- Blogging
are in one place. This means you save money by ditching things like Constant Contact, Hootsuite, etc. It also saves you a ton of time by only having to manage one software platform.
Visible ROI
Yes, the stats above from the MIT study are impressive. However, the real ROI comes from the intelligence you (or your marketing partners) gain from the system. HubSpot comes packed with analytics equivalent to Google Analytics on steroids. You can prove out whether your social media, email, blogging, direct mail, and SEO efforts are actually having an effect on your results. It takes the guesswork out of marketing. Why is this necessary? You can stop pouring resources into something that isn't working, replicate those activities that are working, make intelligent decisions both short and long term, and lift the curtain on the mystery of marketing - there is no place for your marketing team or outsourced company to hide!
HubSpot is truly the all-in-one inbound marketing platform as they state. The great thing is, there are several ways to utilize the system. You can sign up directly and have your internal team manage, get some initial help in setting up the system from a certified partner, or outsource some or most of the process. Regardless of the 'how', it is almost impossible not to get a return on your investment in this platform.
Questions or interested in a demo to see if HubSpot is right for you? It's not for everyone, but I would argue that it is for the majority.