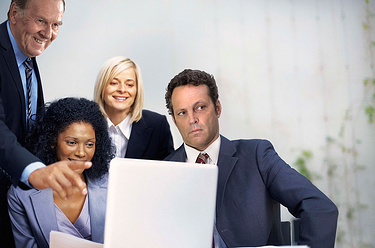 You're sitting there at your desk, head buried in the latest "to-do" from your task list, and you receive a marketing email with the subject line: "FREE MARKET STUDY AND INDUSTRY REPORT." Your eyes glaze over as you finish reading the Subject Line - and then: Click - Move to Trash.
You think to yourself, "is anyone still doing email marketing?" Obviously there are businesses out there emailing you - so yes - but it's so "spammy" and irrelevant. The more important question is "does anyone actually doing email correctly?".
The answer is yes, businesses are doing email marketing - but the sad truth is not many businesses are doing it correctly. In the mind of many mainstream/traditional businesses, email marketing is a tool used to tell your contacts everything going on in their business and in that specific industry.
Can we say b-o-r-i-n-g?
Who wants to read that? For the normal, everyday contact or prospect, this is really irrelevant information and a waste of everyone's time.
So what's to be done? Is there anything of interest you can email your contacts? Of course! But it's important to view all information through the lens of the viewer - and decipher if it's relevant to them or not. So when we ask, "is anyone still doing email marketing?" Let's instead change the question to, "What can I do to make my email marketing more effective?"
Let's talk about the "why" behind email marketing. Generally businesses work through some sort of sales cycle - where a prospect or lead works it's way into your sales database. The sales process takes on several different facades - but typically the sales team reaches out to the prospect and engages in discussions about the product/service they are trying to sell, and ideally the "goal" is to get the prospect all the information they could want about what they're selling.
But what if the prospect isn't ready to buy yet? What if they are currently engaged in a contract with another business - but are looking at other options once they can cancel in a few months? What if they are new to the industry and are researching the best options for their needs?
The situations are endless - but the answer is the same: We (speaking as the business) want to stay "top of mind" as much as possible for this prospect. Is anyone still doing email marketing in your industry? If the answer is yes, then it's time to get serious about your strategy.
Here are five tips on email best practices:
Keep it relevant
You hate receiving emails that don't matter to you, so why would you send the same thing to your prospects? Think about what is important to them, and trim the fat off everything else.
Personalize as much as possible (but always test it first)
No one likes receiving an email that… isn't quite right when it comes to personalization: "Hello [FIRSTNAME], We…."

However personalization done well is a whole different ballpark: "We saw you recently looked at our Product Page, and wanted to follow-up on any questions…."
Don't be intrusive
Would you open a work email on the weekend? Sure, you might. But would you prefer to receive work emails during the workweek? Yes, you would. Stick to the golden rule and treat your prospects like you would like to be treated.
Less about "you" and more about "what you know"
Your prospects are not the right audience for company news. I promise you - there are few people out there who really care that much about how your company is doing. They do care about new knowledge or helpful guides, tips, and tricks though!
Track, test, and perfect
Trends are hard to predict in any industry. The most important thing to do is to always test and track how your emails are doing - and make adjustments as you go.
So if you're still asking: "is anyone still doing email marketing?" The answer is yes, but far too many people are doing it incorrectly. However for those who do it right - the results yield much more bountiful sales, which is kind of the point of email marketing.
Email marketing should be one part of a much larger inbound marketing strategy. Click below If you are looking to run you next great digital campgain.
Image credit: iStock