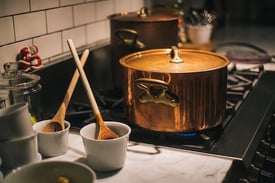 As you may sense from my recent postings, like "3 Tips to Winning at Client Experience" or "The Crumbling Golden Rule", I am rather intrigued by the client experience, why it's so important in today's culture, and the steps to take to achieve a positive experience or quickly rectify a poor one. What I have not talked about, yet, is the formation of client experience and it's direct relation to corporate brand.
I make marshmallows. No, it's not difficult, but it is precise. The very first time I made them, the recipe specified "add ingredients in this order", so of course I followed explicitly. Wanting to experiment though, and being the expert I was after making them just once, I ignored this recommendation when I made my second batch. Truth be told, there was a consistency difference in the final product. I was baffled such a small adjustment in the preparation greatly affected the outcome, but since I've continued my experimentation into the world of marshmallows, I always start with the same base, compiled the same way, every time.
My detour into the delicious land of marshmallows is the perfect correlation to creating a unique and successful client experience. For you to find your stacked inside out s'mores (a crowd favorite), you have to start with the basics, your brand! Your corporate brand is who you are as a company, not just customer facing, but also internally. Your brand is more than your logo, company name or tagline. This base defines how you answer the phone, sign your emails, handle customer concerns, or even the language used on your invoices. Like brewing your morning cup of coffee, the brand percolates through every fiber of your organization, so it must be defined, articulated, and lived out in daily interactions with fellow employees, clients, potential clients, and beyond!
You may have laughed when I mentioned the language on an invoice, but even that monthly communication with your client is a reflection of your brand. If the invoice is complicated and full of legalese, your client might experience confusion or frustration, which extends into their feelings about your interactions elsewhere. However, if the invoice is crystal clear, they are going to appreciate the time you took to speak to them in a manner they understand and know they can trust you to "give it to them straight".
So…did you create your brand first, or did the client experience you already exhibited influence the creation and execution of your brand, and thus the client experience? Either way, just like the chicken or the egg, the end result is the same! Take some time, gather your team around you, and work to ensure your brand is both defined and properly executed, so you can be well on your way to excellent client experience.